After President Donald Trump's term ends, the younger generation of the Trump family could be headed back to Washington, D.C., in their own capacities, as Lara Trump, the president's daughter-in-law, is open to running for Senate.
With Trump's loss in the presidential election, attention turned to his kids, Donald Trump Jr. and Ivanka, as a possible ticket for the 2024 election. They're not the only Trump names floating around for positions in Washington, D.C., and reports came out last week that Lara was looking to represent her home state of North Carolina in the Senate.
When asked about the potential Senate run during an interview with Fox News' Fox & Friends on Wednesday, the president's daughter-in-law didn't confirm the reports, but also didn't rule it out.
"It would be an incredible thing. It's my home state, a state I love so much and look, I think we need some strong Republicans in Washington, D.C.," Lara said. "We had a great run for the Senate and the House this go around but let's see what happens."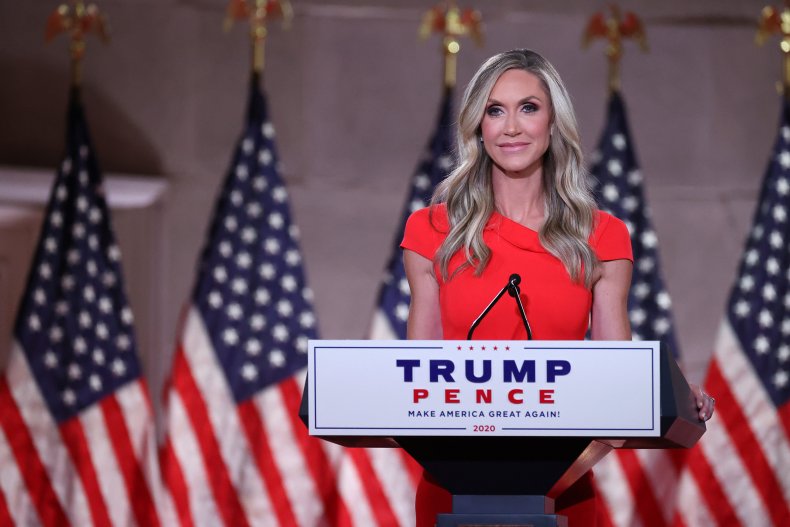 Lara, who married the president's second-eldest son Eric in 2014, grew up in North Carolina and received her bachelor's degree from North Carolina State University. A former producer for Insider Edition, she may become the next Trump on a ballot.
North Carolina Senator Richard Burr, who has been in the Senate since 2005, is planning on retiring in 2022 after the end of his term. Mercedes Schlapp, a Trump campaign adviser, told the New York Times Lara has a "natural instinct for politics" and is "very charismatic."
"In North Carolina, in particular, she's a household name and people know her," Schlapp told the New York Times. "She worked really hard on the campaign and was very involved in a lot of decisions throughout."
Former counselor to the president Kellyanne Conway echoed Schlapp's opinions of Lara, telling the New York Times that Lara can raise money, awareness of key issues and attention to her race. Unlike "many typical politicians," Conway said Lara "connects with people and is a compelling messenger."
Lara stumped for her father-in-law during the 2020 campaign season, at times appearing at events in lieu of the president, but the North Carolina race is expected to be a tight one. The state reliably votes Republican in the presidential race, but down the ballot is more of a toss-up with the state voting for more Democratic governors over the past 50 years than Republican ones.
Senator Thom Tillis defended his seat in the 2020 election, but only narrowly won by less than 2 percentage points.
As far as Lara is concerned, she told Fox & Friends that we should "get through this one" and then start talking about the next election.
Newsweek reached out to the Trump campaign for comment but did not receive a response in time for publication.