A sheriff in California has insisted his deputies will not enforce any "Regional Stay-At-Home Order" order, while another has criticized the state's governor for suggesting funding cuts for counties that do not enforce the new rules.
Orange County Sheriff Don Barnes said in a statement that compliance was "a matter of personal responsibility and not a matter of law enforcement."
It comes just days after California Gov. Gavin Newsom announced the new orders would be brought in to help prevent hospitals from becoming overwhelmed by COVID patients.
The orders apply to certain areas (listed below) which report hospital ICU capacity falling below 15 percent, and require residents to stay home for three weeks. Under the order, which has not yet taken effect for any area, non-essential travel is banned, while bars, salons, and in-person dining at restaurants will be closed.
Responding to the news, Barnes said his deputies "will not be dispatched to, or respond to, calls for service to enforce compliance with face coverings, social gatherings, or stay-at-home orders only."
He said: "To put the onus on law enforcement to enforce these orders against law-abiding citizens who are already struggling through difficult circumstances, while at the same time criticizing law enforcement and taking away tools to do our jobs, is both contradictory and disingenuous."
Calling on the public to continue to follow public health recommendations, including wearing face masks and practicing social distancing, Barnes said that policy makers "must not penalize residents for earning a livelihood, safeguarding their mental health, or enjoying our most cherished freedoms."
This is not the first time Barnes has said his deputies would not be enforcing a public health order issued during the pandemic. Last month, he issued a similar statement after Newsom issued a partial "Stay-at-Home- order" which essentially involved a curfew from 10 p.m. until 5 a.m.
Funding dispute
Meanwhile, another Californian official, Riverside County Sheriff Chad Bianco, has criticized Newsom for saying that the state would consider redirecting funding from counties that do not enforce the orders to those that do.
In a video published on the sheriff's department YouTube page on Friday night, Bianco hat such a policy would be "extremely hypocritical" for Newsom, and said he would not be "blackmailed" into enforcing the regulations.
"Ironically, it wasn't that long ago that our same governor loudly and publicly argued how wrong it was for the President of the United States to withhold federal funding from states not complying with federal laws," he said.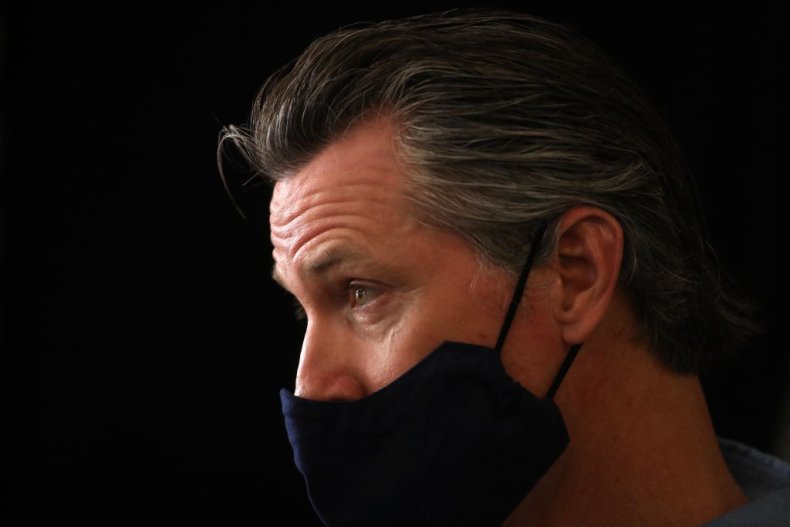 Speaking about the potential for funding changes this week, Newsom said: "We didn't want to be punitive but we wanted to be firm."
California Governor Newsom apologized last month after being photographed at an up-market restaurant in Napa Valley, with a group of prominent lobbyists despite public health officials calls for people to limit social contact.
In an apparent reference to the incident, Bianco added: "The dictatorial attitude toward California residents while dining in luxury, traveling, keeping his business open, and sending his kids to in-person private schools is very telling about his attitude towards California residents," Bianco said.
Where the new order could be used
The five regions where the latest order can be triggered include the following:
Northern California: Del Norte, Glenn, Humboldt, Lake, Lassen, Mendocino, Modoc, Shasta, Siskiyou, Tehama, Trinity counties.
Bay Area: Alameda, Contra Costa, Marin, Monterey, Napa, San Francisco, San Mateo, Santa Clara, Santa Cruz, Solano, Sonoma counties.
Greater Sacramento: Alpine, Amador, Butte, Colusa, El Dorado, Nevada, Placer, Plumas, Sacramento, Sierra, Sutter, Yolo, Yuba counties.
San Joaquin Valley: Calaveras, Fresno, Kern, Kings, Madera, Mariposa, Merced, San Benito, San Joaquin, Stanislaus, Tulare, Tuolumne counties.
Southern California: Imperial, Inyo, Los Angeles, Mono, Orange, Riverside, San Bernardino, San Diego, San Luis Obispo, Santa Barbara, Ventura counties.