New York Attorney General Letitia James said in a report released Thursday that it was likely state health officials undercounted COVID-19 nursing home deaths by as much as 50 percent, bringing a controversial decision Governor Andrew Cuomo made last spring back into the spotlight.
State health officials reported more than 8,700 total COVID-19 deaths among nursing home residents as of Thursday, according to the COVID-19 Tracking Project.
As the raging coronavirus pandemic threatened hospital capacity in New York state last March, Cuomo announced a policy allowing nursing homes to bring in patients who had tested positive for the coronavirus or were suspected to be infected.
"No resident shall be denied re-admission or admission to the [nursing home] solely based on a confirmed or suspected diagnosis of COVID-19," the policy said.
While those responsible for discharging patients in hospitals were required to confirm that any new nursing home patient was "medically stable for discharge" before the person was transferred out of the hospital, the policy said nursing homes "are prohibited from requiring a hospitalized resident who is determined medically stable to be tested for COVID-19 prior to admission or readmission."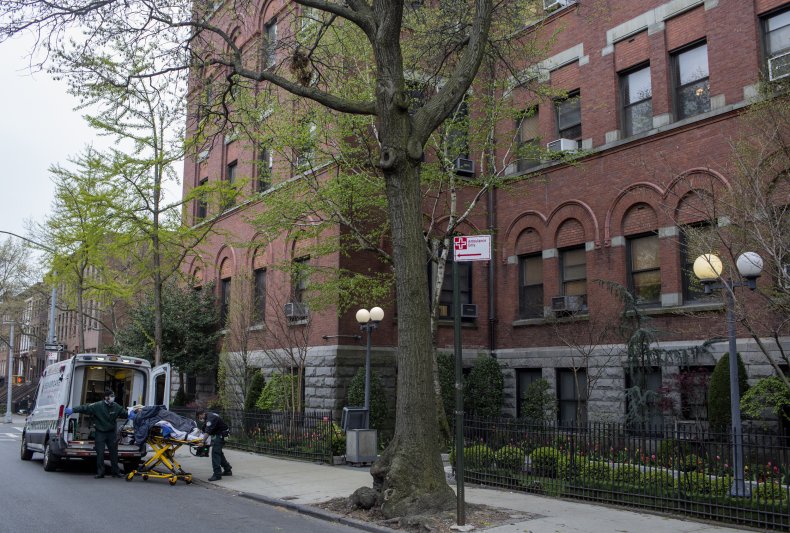 Cuomo reversed the policy in May, requiring all patients to test negative for the virus before being admitted to a nursing home. But the policy's short existence has continued to be a source of criticism of the state's response to the coronavirus.
Also controversial has been the New York state Department of Health's (DOH) reporting on COVID-19 in nursing homes. An investigative report by the Associated Press estimated last August that the state was significantly undercounting its total number of COVID-19 deaths in nursing homes, partially because of a state policy that did not include nursing home residents who died of COVID-19 after they were transported to hospitals for treatment.
James' 76-page report said it found evidence that nursing home employees were not adequately supplied with personal protective equipment and that some nursing homes were not carefully following infection control protocols. This, she said, "put residents at increased risk of harm."
"Preliminary data obtained by [the attorney general's office] suggests that many nursing home residents died from COVID-19 in hospitals after being transferred from their nursing homes, which is not reflected in DOH's published total nursing home death data," James' office said in a news release.
"Preliminary data also reflects apparent underreporting to DOH by some nursing homes of resident deaths occurring in nursing homes. In fact, the OAG found that nursing home resident deaths appear to be undercounted by DOH by approximately 50 percent," the news release said.
James' office said that her investigation began last March and that more than 900 complaints were received between April and November regarding communication problems between nursing homes and residents' family members. More than 20 nursing homes are still under investigation, James' news release said.
The DOH released a report last July that linked infected nursing home employees with residents' infections and deaths from the virus. The report acknowledged the March policy allowing nursing homes to admit virus-positive patients but said that "an analysis of the timing of admissions versus fatalities shows that it could not be the driver of nursing home infections or fatalities."
An examination of the March policy by Kaiser Health News concluded that while advocates for nursing homes said the policy implied that nursing homes were required to accept virus-positive patients, health experts said nursing homes were still at liberty to accept or decline new patients.
But larger questions about the total number of COVID-19 deaths in nursing homes remain. Some state leaders have called upon the DOH, under threat of subpoena, to release more comprehensive data on COVID-19 in nursing homes.
State Senator James Skoufis, a Democrat representing New York's 39th District, said earlier this week that issuing subpoenas to receive data he and other lawmakers have been requesting for months was not out of the question, according to WBFO-FM.
Skoufis told Newsweek in a Thursday statement that James' investigative findings "validate what many of us already suspected."
"The attorney general's report represents a truly independent, evidence-based analysis of nursing home impacts during the pandemic. The findings, while disturbing, are unsurprising—they validate what many of us already suspected and validate what my investigative team and I have been piecing together since our legislative hearings in 2020," Skoufis said.
"The attorney general's report further underscores the need for transparency and accountability within the Department of Health. As I commented earlier this week, the DOH commissioner's unresponsiveness to the Legislature's many questions and concerns is insulting and unacceptable," Skoufis' statement continued.
"While his next appearance before the Legislature was delayed until late February, it is my full expectation that he provides answers by the time of his testimony," Skoufis added. "Otherwise, he can anticipate an unpleasant and uncomfortable hearing. Without answers by then, I will support a move to compel the information from DOH."
Bill Hammond, a senior fellow at the New York-based nonpartisan think tank Empire Center for Public Policy, told Newsweek that James' report confirmed his suspicions about COVID-19 deaths in New York nursing homes. The Empire Center criticized Cuomo earlier this month for further delays regarding related data releases.
"The attorney general's report confirms that the Health Department is grossly underreporting COVID-19 deaths in nursing homes, leaving thousands uncounted, as the Empire Center and other critics have warned for months," Hammond said.
He added, "The report also raises new questions about the limited data that the department releases, which omits residents who were transferred to hospital before dying. The attorney general found evidence that even the DOH's count of in-facility deaths is substantially lower than the true toll."
Hammond went on, "Surprisingly, this report still does not disclose the full data being collected by the department, which includes hospitals transfers and has been repeatedly requested by the Legislature and others, including the Empire Center. It's shocking that the Cuomo administration continues to withhold basic information about a major public health crisis that New Yorkers urgently want to know and clearly have a right to know."
Newsweek reached out to Cuomo's office and the DOH for comment and will update this story with any response.