Charity Robertson, the girlfriend of Houston Tumlin, has posted an emotional tribute to the recently deceased child actor. Tumlin, who died by suicide on Tuesday at the age of 28, appeared in the 2006 sports comedy Talladega Nights.
"I've never experienced a hurt like this before," Robertson's Facebook post began. "I feel numb, I feel defeated, I feel lost. I feel empty. My heart is absolutely shattered…. I just still feel like this is a really bad dream that I can't wake up from."
Referring to Tumlin as her "sweet, sweet baby," she called their time together "one of the best experiences of my life." She wrote that she'd miss his "big heart, caring spirit, infectious laughter… [and] smart mouth," among other things.
"One thing is for sure though," she continued, "I have the absolute best guardian angel a girl could ever wish for cause everybody knows you don't play about me."
Her post contained 13 pictures of herself with the actor as an adult. In the pics, the couple smiled and hugged in various home and outdoor settings.
On Tuesday, the Shelby County Coroner's Office confirmed to USA Today that Tumlin died from a self-inflicted gunshot wound at his Pelham, Alabama home. Tumlin's girlfriend was at home at the time and discovered his body, the coroner told NBC News.
The former actor suffered from PTSD and depression. He didn't leave behind a note to be found after his suicide, the coroner told the aforementioned news source.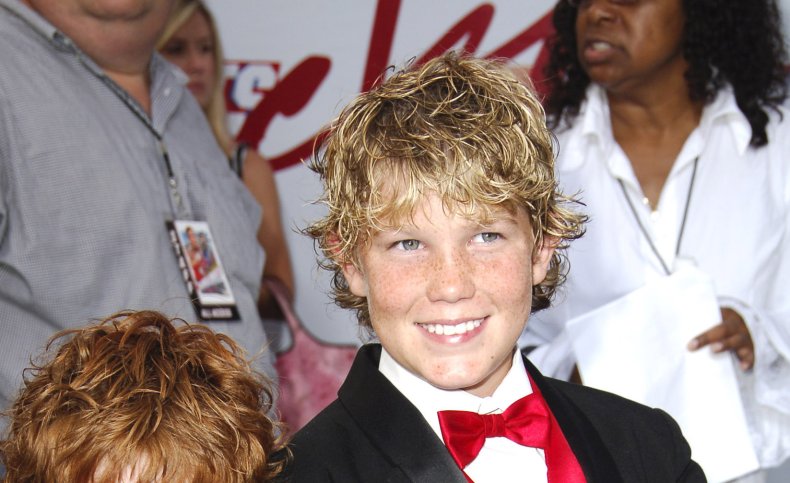 In Talladega Nights, Tumlin starred alongside then-fellow child actor Grayson Russell. The two played Walker and Texas Ranger, the young sons of fictional NASCAR driver Ricky Bobby, played by comedian Will Ferrell. In the movie, the two boys were disrespectful and trash-talking. In one family dinner scene, the two kids threatened to beat up their grandfather after he chided Bobby for raising them poorly.
Tumlin was 13-years-old at the time of the film's release. He never appeared in another film.
On February 18, Tumlin posted an image of himself at the film's premiere alongside Russell on Instagram. He wrote, "tell me a set of 'brothers' more handsome. I'll wait".
Tumlin served in the Army as a specialist and was promoted to sergeant in 2017. He also had a job working on power lines. His Instagram account features pictures of his military training, his mother and father as well as his dogs.
Newsweek contacted the American Foundation for Suicide Prevention for comment.
The National Suicide Prevention Lifeline provides free and confidential emotional support to people in crisis or emotional distress 24 hours a day, 7 days a week. You can contact the organization at 1-800-273-8255, or visit its website.